Two weeks before I was to graduate from the Bronx High School of Science, I stole my first hubcap. In My neighborhood, that didn't brand me a thief; it made me a late starter."
Aaron Lipstein, "the Lip" to his best friend Charlie Figatelli, ("because you got an answer for everything"), is about to graduate high school at the top of his class. Aaron is looking forward to an uneventful summer before entering Columbia University, leaving home and getting away from his abusive father.   Charlie will also graduate, but just barely, and then go to work in his father's bakery.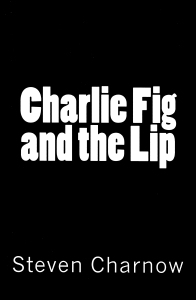 When the bullet-riddled, delivery van belonging to Charlie's father is pulled from a canal flowing into Jamaica Bay, and the police fail to recover Mr. Figatelli's body, Charlie appeals to Aaron to help him search for it. The boys sail into the bay, following the treacherous currents that carried the body away from the Brooklyn shore. Their leaky boat is soon swamped, stranding them in the marshes and uninhabited islands stretching across the bay.   Aaron and Charlie begin a perilous journey back to the mainland. Their struggle through the harsh environment brings them to a harrowing encounter with "the ghost people", living in a village hidden deep in the marshes. Here, Aaron will learn the startling truth of Mr. Figatelli's disappearance, and it will transform his perception of the man he respected and admired more than his own father.
Charlie Fig and the Lip is a novel rich in imagery and character. A story of fathers and sons, the bonds of friendship, and the loss of childhood innocence rendered in stunning detail of place and time.